Experimental ALPHA macro with several functions, either for creating a list of the current session with clickable URLs+TITLEs (storable as html-page), or for EXPLORING older stored sessions or those in other profiles or in backups etc., even showing old page titles too.
It READS sessions stored by the native sessions plugin and creates a html-page from them, but doesn't modify those native session source files.
Really love the lists it creates and use it daily, glad each time!
But it was a giant struggle due to inventing all sorts of crazy workarounds for the various KM versions since 1.5.4, making the whole thing a highly complicated cardhouse, needing endless time. Finally had to drop it still in buggy alpha state, and looks like it may never get finished now
Perhaps some day, perhaps only for a newer, stable KM version, should be a lot easier. No idea, but not anytime soon.
If anyone still wants to use it, unzip the attached file into the KM program folder. It contains a kmm-file and a new subfolder "/macros/tablistia" for the lists, make sure to have writing rights there. Or move it elsewhere and adjust the path in the macro. There are more descriptions inside the macro file, please read.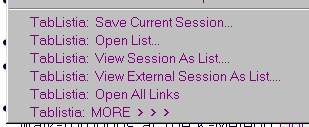 But an image says more than 1000 words, here an example how a tablist looks (style is variabel):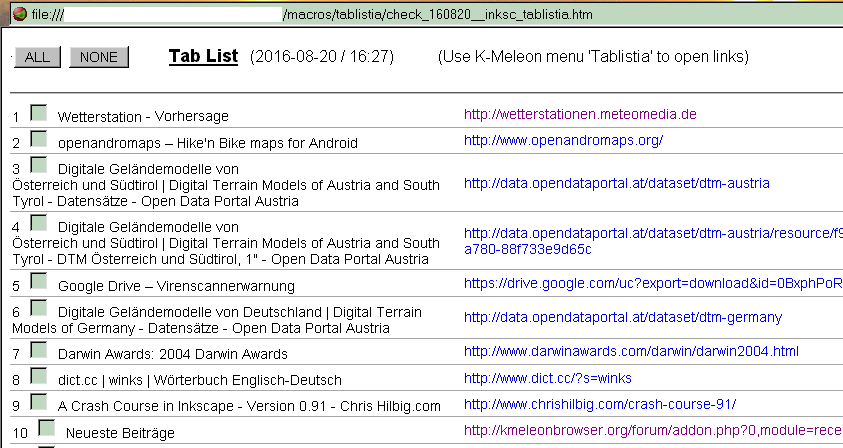 For the editor freaks, the lists can be modified later in the source code, basic html:

(PS: have now combined the 2 macro parts into 1 file. Same code inside.
Recommand to delete the old files "part1.kmm"+"part2.kmm" and replace with the 1 combined file)
Edited 4 time(s). Last edit at 09/03/2016 01:13PM by siria.