One of my tiniest macros ever
Made it already a year ago, but didn't have the impression it would be of much use considering all sorts of other possibilities, but finally here goes:
Right-click on an image and "SEARCH image on...." (Google/Yandex/Tineye) to find similar images. This sends the image source URL (not the pixels) to special search engines for Reverse-Image-Search.
Made with tips from JohnHell and rodocop, thanks!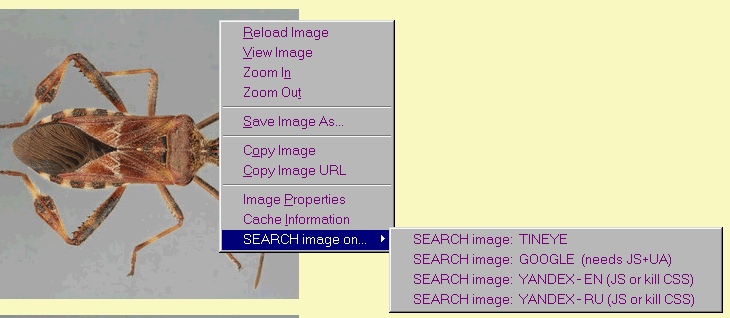 Note: GOOGLE needs Javascript and a modern UserAgent string or doesn't work!
KM-Version
: 1.5 or newer
INSTALLATION:
Copy attached kmm file into macros folder and restart browser.
UN-installation:
Delete kmm file again. Done.
Edited 1 time(s). Last edit at 12/19/2017 10:17PM by siria.